PRODUCT INFO
---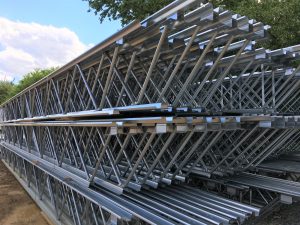 Myers Building Systems partners with VP Buildings to provide the ultimate building solution for almost any construction application. VP Buildings is leading the transformation of the metal building industry. VP Buildings utilizes the most advanced computer technology in the industry. From the traditional metal building to the exciting, architecturally enhanced projects of today, VP Buildings is the answer to almost any low-rise commercial building.
VP Command is a proprietary design, engineering, estimating, and ordering program utilized by Myers Building Systems. Working together with our team of architects and engineers, VP Command reduces both estimating and design time, and accurately details building structures. From retail space to office space, from light industrial centers to a busy community center, VP Buildings provides attractive, cost-efficient spaces. VP Buildings lets you tailor your building to your specific Varco-Pruden Logo needs. Inside, choose the framing system that meets your individual space requirements. Outside, choose the look and material you want. Myers Building Systems and VP Buildings is the ultimate building solution.

VP BUILDINGS
CODE COMPLIANCE
Meets or exceeds all building code specifications
CONSTRUCTION TIME
Shorter construction time cycle — often as much as 1/3 faster, so you can occupy your building faster
FLEXIBILITY
A variety of standard, flexible systems, not packages, are customized using the speed and accuracy of the VP Command computerized design and engineering system
COST SAVING AND COST PREDICTABILITY
Recent studies prove the efficiency of pre-engineered building systems can save up to 30% in overall construction costs for certain building types. Plus, pricing is more accurate due to the standardization and efficient use of steel.
MAINTENANCE
Steel structural system components are not affected by damp rot or insect infestation. They will not warp, crack or require regular maintenance. Metal wall and roofing systems are finished with a variety of high performance coating systems offered during years of low maintenance services.

CONVENTIONAL BUILDINGS
CODE COMPLIANCE
Various levels of code compliance possible due to varying degrees of engineering input expertise; each building design must be checked separately.
CONSTRUCTION TIME
Increased construction time due to customization required to engineer, fabricate and assemble all non-standard components.
FLEXIBILITY
Flexibility with a price. Conventional buildings offer a wide range of structural options but may be limited by local material availability, engineering expertise and building code enforcement.
COST SAVING AND COST PREDICTABILITY
Difficult to accurately predict cost of structure due to custom nature of materials. Therefore, you frequently pay more to cover the cost of unknowns. Also, conventional designs often do not employ the most efficient use of materials, which adds more to the cost of the building.
MAINTENANCE
Maintenance requirements vary with type of structure, location and materials selected.